Heya!!! Another glee cap from me today!! :D
New York
1) Santana getting a gig before Rachael I didn't see it coming at all!!!
I definitely didn't see the yeast foot commercial coming at all xD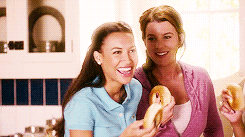 "I Like Yeast In My Bagel, Not In My Muffin" lolz
2) Dantana!!!
To be honest it was alot faster pace than i expected... anyway i ship them :D

First kiss and they are officially a couple ... wow that's fast!!1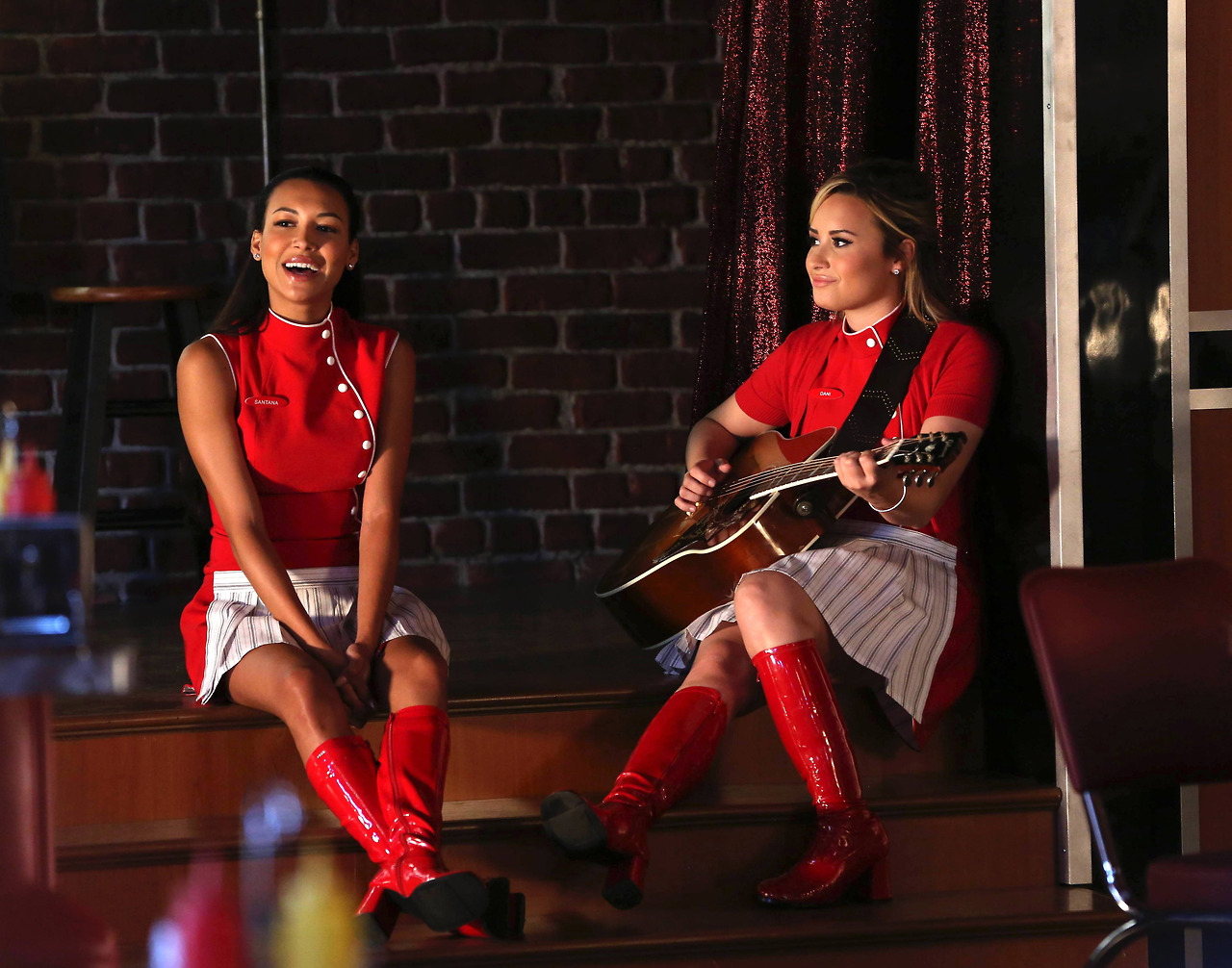 I think Dani is gonna be my new fav character in this season!
I am a huge Demi Lovato fan and seeing her back on my tv screen just makes me :D (btw her disney show Sonny with a chance was hands down one of my most fav tv show on disney to date)
Also them singing "Here comes the sun" was really nice and soothing. I love that song! I was first actually introduced to it by my drama teacher Russel back in collage when i had to take drama an elective.
3) Rachael, Kurt and her "Mojo"
Ok so this is the Rachael Berry that i know and love! The type that is crazy career driven and will not rest till she gets her solo... or the lead in this case .
I love her duet with Kurt (been a while since we got a slice of HummelBerry Duet Pie :P) when they were singing Get Back. I really love them dancing and moving around the pianos (i wanna be part of that number !!xD )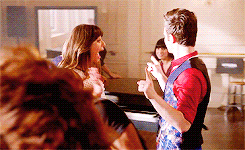 Also Kurt.... he got a job at Broadway diner with Santana and Rachel since Vogue.com does not pay ... and when he entered the diner .....
<3_<3 ... and he said back in S2 he can't do a "sexy face" to Blaine.... did anyone fainted at this??? Blaine must have given him lessons... oh Kurt :3 Why are you so ASDFJKL; XD
The part where Kurt, Rachael and Santana pledge to give themselves 2 years to make it big in NYC with the pinky swear was just nice and heartwarming.
Also ... now I was betting on Rachel getting the part and just when the directer ask for a full cake I immediately jump off the sofa screaming "she's getting the part!! She's Fanny!!!!" and true enough Rachael did get the part!!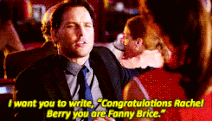 Yay!! Congrats Rachael!!!
Mackenly
1) Sam + Penny
Ok so I am starting out with this as it was my least favourite part of the episode ... just saying ... I meant Sam is one of my favs but not another story line relating to him finding a new love interest ... on THE SCHOOL NURSE!!! >.<"
I kinda understand him getting upset on not nominated for Prom King since he it is his final year and he is one of those who loves his popularity status and it was funny as it is seeing him getting the shots and flipping funny of him getting scared of shots ... and Penny ... the pretty Sophmore intern nurse ... who I am scares of ... it was funny watching him stare at her while singing "Something" (which was my least fav song of the episode.. sorry Sam)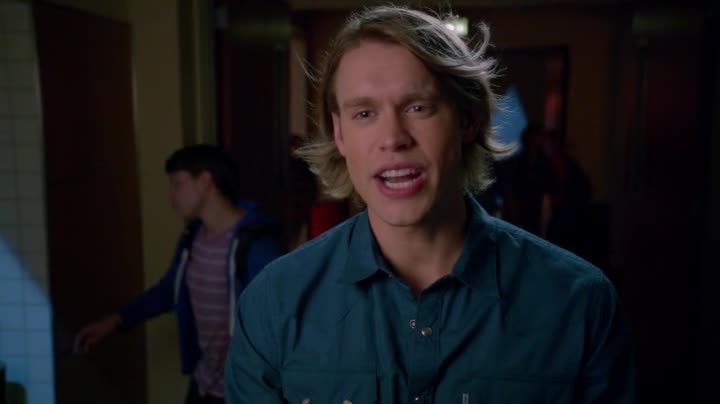 Half of the time i was scream "CHORD YOU NEED A HAIR CUT!!!" ... just saying :P (i prefer him with short hair than long)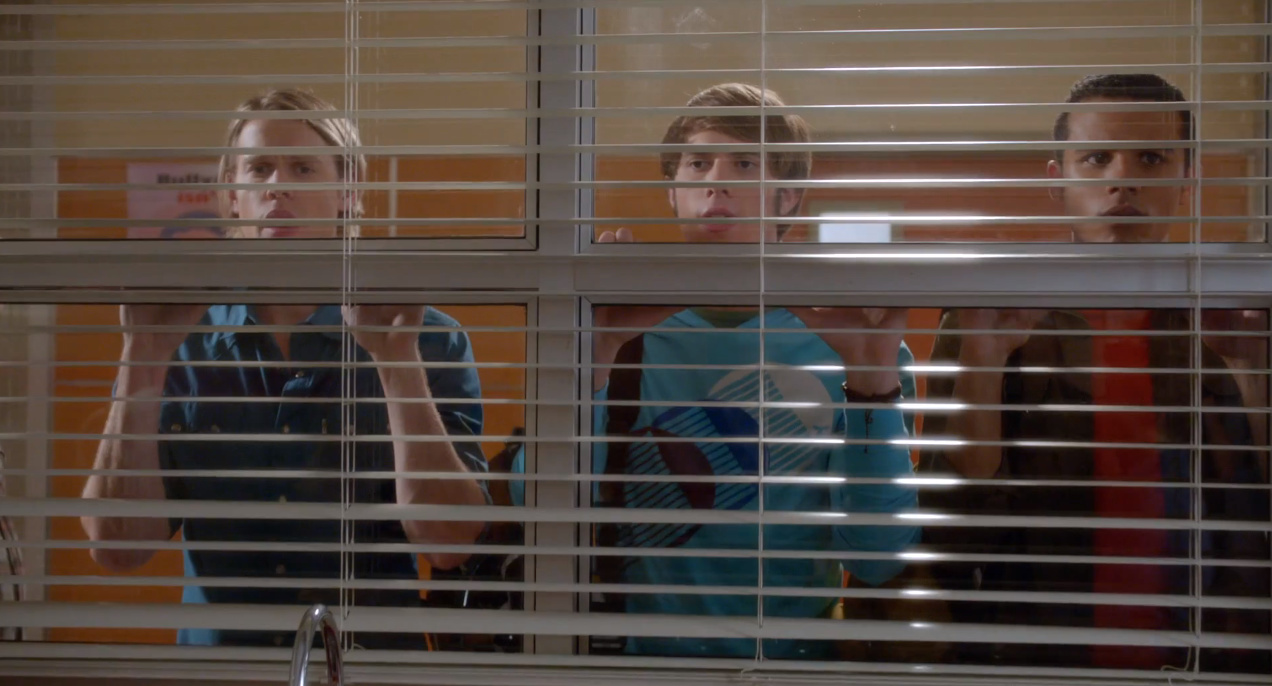 also ... Sam, Ryder (no surprise after watching him staring at Santana in Diva) and Jake (typical puckerman :P) staring at Penny like cupid had just gave them the shots was FUNNY XD
Penny ... now I admit she started out as a nice sweet character ... till she started injecting the sausage... yah i am now scared. Other than that i like her ... as long she is not the nurse that i go for my injections ...
2) Kitty VS BREE
OK so Kitty like Santana and Quinn didn't start out as as a character I liked but after shooting stars last season her character grew onto me.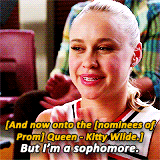 Exactly my question...
She like Blaine, Tine and Artie got nominated for the Junior-Senior Prom Queen (isnt she a sophomore ?? I don't understand how this high school prom thing works...) and I thought it was nice of her to let Tina win since its Tina's final year and her time to shine.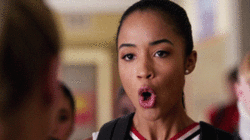 Man she is scary....
Bree confront Kitty that she wants her to run against Tina for Prom queen since its been a years since a Cheerio won the crown and even goes to the extend of posting poster around the school promoting Kitty for prom Queen ( idk why but Bree reminds me a bit of Quinn ...)
At prom, Bree with the help of Dottie pulls a prank on Tina where as Tina was announced as Prom Queen a bucket of Red Slushie Falls on her and Bree started laughing at her prank.
Kitty later offers Tina her dress and with the other ND girls helps clean her up.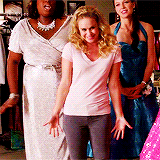 She's pretty even with normal cloths!!!
So yah Kitty I seriously love her this episode even more!!!
As for Bree.. i wonder how Coach Roz (who i love her btw!) found out about her prank... anyway when Sue made her head Cheerio all I can think is .... oh dear lord Sue Silvester 2.0 is gonna be hack loads of trouble ...
3)New Direction new bees
Ok so not alot of ND related scenes but the performance from Ryder, Unique, Jake and Marley was AWESOME!!!
"Sgt. Pepper's Lonely Hearts Club Band" was one of my fav this episode!!! (random but its one of my mum's fav Beatles song)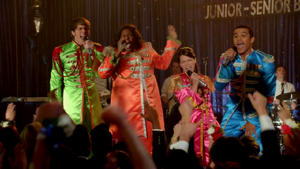 I had to keep reminding myself that Unique is not Mercedes. Also them dressed up as the Beatles in the military attire made the performance more enjoyable!
4) Tina, and the ND Seniors
Ok Tina jumped up shouting "This is my chance to be bigger than Jesus" and started singing Revolution was epic!!! But her rejection Jake and Mr Shue High 5 ... rejecting Sam as her date cause he is not nominated as prom king (my samtina feelings are crying!!) and her telling Artie loosing is uncool... um Tina... this is not you...
however I AM FLIPPING MAD THAT WE ONLY GET 3 VERSE OF HER SINGING IT!!! I FLIPPING WANT A FULL VERSION OF REVOLUTION... ok RANT over...
Tina going to prom with a group of single girls kinda makes me want her to sing and "Single Lady" xD
Also i really love her first dress!!! I seriously love how her dressing style has changed so much from S1/2 to now.
Was really happy but kinda expected for the to win Prom Queen ( idk why Stoner is prom King but i thought it was one of those joke winnings).
Ok when this happen i flipping wanted to cry with Tina!!! :'(
Like seriously it was her one time to shine and the "Carrie" thing had to happen ... WHY!!!????
I was debating on posting this pic as its flipping sad and the slushie looks like blood but i think i should... anyway seeing this I don't blame her for breaking down as in the 5 seasons of glee her character was a human prop being shunt to the background and her time to shine was just .... :'(
Also I don't blame her for breaking down as for years she and the ND gang have been slushied and bullied for being a looser and this was just the cherry on top of the cake for her....
When she wanted to leave Blaine stop her from leaving and...
Dang they are playing the nostalgic card with us from S2 when Kurt was crowned Prom Queen!! IDK about you but Blaine is really good with the prep talk about going back out there and owning that crown!!! Man i know there are ALOT of hates on Blaine cause he gets too many solos but i seriously love Blaine and this is one of the many reasons why!!! He is a really good friend and influence to his friends.
I really am glad he called Tina back and ask her to fight and OWN that prom! Seriously guys ... one day they will look back and laugh at this.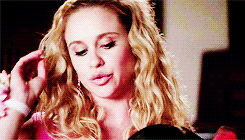 So as the ND girls start cleaning Tina up (Kitty is seriously really sweet in this episode!!)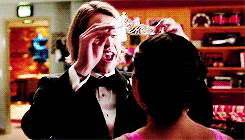 Sam Giving Tina her crown (SAMTINA MOMENT !!! XD)
And Ryder giving Tina ... now Pink roses (swoon Ryder is so adorable here xD I ship them if SamTina does not happen )
All while singing "Hey Jude" xD
And order is restored xD
Ok so yes i was a little long winded on the whole Story but it was my fav story line from the series in a while! Tina is my fav character and i really hope that a really good story line comes for her in the near future!
5) Let it Be + Ending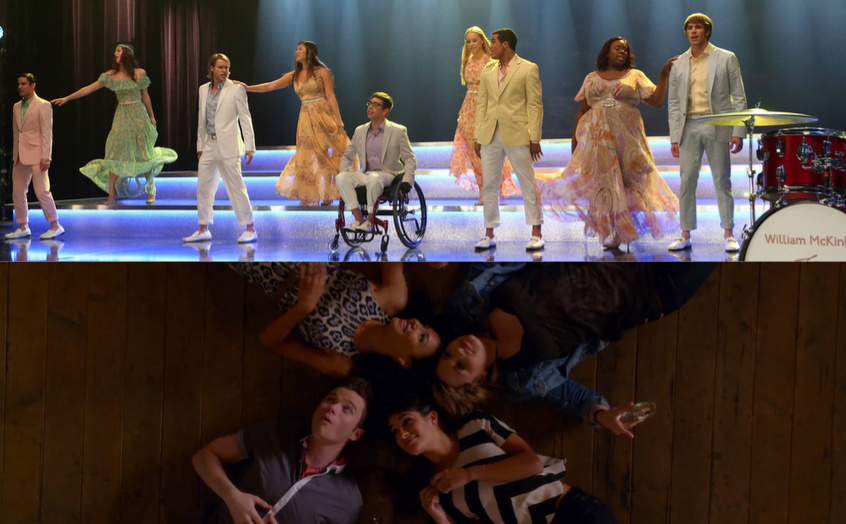 Let it Be is one of my top favs Beatles songs and its just a pop music classic
NY-
So looks like things between Dani and Santana are official and they were just really cute during the song.
The NYC gang are singing Let it Be while raising a toast to Rachel landing the role as Fanny and i think they have one too many glasses of Champagne in the end :P
ND- I really love that this is a group number and that Mr Shue is looking at them all happy.
Ok so this wraps up my commentary/ Review/ Gleecap for this episode and the 2 part Glee Beatles special !
Next episode ... man I don't know how i am gonna be able to watch the quarterback.... I just watched the trailer and ;"(
Anyway let me know in the comments what do you think of this episode???
What's your fav Beatles song??
Till Next Time