Oh gosh... I am so not ready for this :'(
"Thank you Cory. You thought me to Don't Stop Believing"
Heya!!!
Ok so ... another song review sorta blogpost ...yup!
So Glee third episode of the season is going to air this Friday (Australia time) and as much as I am looking forward to this episode, I also have kinda been dragging it as its the episode that is dedicated to Cory Monteith aka Finn Hudson and I (heck the whole fandom) knows this is going to be an emotional roller-coaster ride for all of us to watch. However, grab your tissue and a bowl of popcorn as this episode is to celebrate the life of Cory/Finn and what he has brought to Glee.
With that the songs for "The Quarterback" have just released (so no pretty pic of the cast singing as I am writing this prior to the episode airing) and I thought I'll share with you guys my thoughts on the songs.
sung by Kurt, Mercedes, Mike, Puck, Santana, and Tina
FINALLY Glee cover Season of Love!!!!! (happy dance time!! Mike Chang style :P)

I am really happy with those who are chosen to sing this!!!
I was really surprise to see Mike being one of the them singing but am quiet happy (me luv Mike!!)

Mercedes singing Joanne part was predictable for me as her voice is just so powerful like Joanne.

Santana + Puck+Kurt +Tina singing Tom part ... wow!! at first i thought it will probably be just Puck but this combo of the four was WOW!! really really good! lovely! nuf said!
I am hoping they sing this in the auditorium like how in Rent they sing it on stage in a role in the dark auditorium like... well the pic tells it all :P
Original movie version
Sung by Mercedes
Oh goshhhhh Season 1 feelings here!!! :")

Ok this at first I expected if to be sung by Mr Shue or even Finn's bff Puck.

Mercedes was kinda unexpected but i really her redemption! Its soulful, emotional and just beautiful :')
Gosh when Cory passed away lots of radio stations in Malaysia were playing "I'll stand by you" and I actually forgot about this song as it was like Season 1.
Also random but kinda did wish that Mercedes and Finn had a duet so while on tumbler someone mixed both their versions of I'll stand by you so go and
check it out.
Sung by Artie and Sam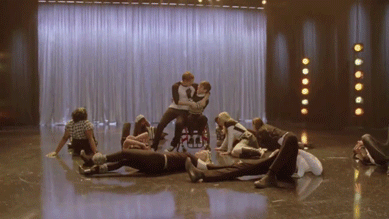 High 5 for Samtie Duet!!!
Ok this I too didn't expect! I didn't expect at all!!
Gosh!!
I am really happy we finally have a duet between Sam and Artie!!
This song I'll call it their dedication to Finn the quarterback, drummer, leader and just in general a really good friend


I meant Finn was both Sam and Artie really good friend trough out their times in Glee.
Heck Finn was a good friend of everyone and that's just what i see this song represent!
Finn introduce new bees of Mackenly into glee club when they have no where to go (Sam,Rory and Ryder)
For Artie ... in the pilot Finn saved him from the other jocks in the end of the episode! that my friends was the start to Finn and Artie friendship :D
Anyway I hope they sing this acoustic!
I am a big fan of James Taylor songs! His voice is just nice and soothing.
As for Sam and Artie, I love their redemption, their voices blend together really well.
Maybe we will see more Samtie duet in future??
sung by Santana
GOOSEBUMPS WHEN I FIRST LISTEN TO THIS!! GOSH SANTANA VOICE IS SO!!!
ME GUSTA !!!
ok I calm down with the cap locks...
Well i was seeing a Santana solo coming since she and Finn eventually became really good friends (she did after all call him to help bit up Broady)
I love Santana's redemption of this!Its beautifully sung! But I also feel really sad as its about ... the ifs of dying young... Mixed emotions.... anyways Probably my new fav Santana solo since Nut Bush City Limits.
Gosh I feel the nostalgic of Landslide. Naya Rivera needs to sing country more!
Yay a song by Puck! Its been a while since we last heard him sing. However according to some sources it might be one of his last on glee (from what i read in the synopsis they might be writing him out! no! :'( he is Jake's brother too!!)
Puck was a character that i learned to grow to love in the series. I neither hate him nor love him when i first started watching glee.
This song is real hardcore country (now that i think about it... lotta country songs here).
Practically talking about Blood Brothers which is what we know Finn and Puck for!
Gosh! This song was really raw and emotional. Blew me away!
I always love Pucks voice.
This as his dedication song to his best friend and practically his brother is well suited.
Gosh I am going to miss the Puck/Finn bromance :'(
sung by Rachel
Ok most of this songs i am writing it as i listen to it for the first time... this i was not prepared at all...
Goosebumps are crawling around me once again ... as Lea's voice songs it out... as i type this out.
Emotions, sadness, love, pain, cries (like real cries! :'( ) I hear them all.
soft but powerful. angelic and beautiful.
This is definitely one of the best I've heard on glee not just as a Rachael solo but as a song from the series.
Its going to be hard to watch this part when the show airs.


Thoughts/Wishes

I to be honest was hoping the original 5 (Tina, Mercedes, Kurt, Artie and Rachael) to sing Don't Stop Believing since it is the Glee's anthem but i think we should leave it as the final musical number that Cory/Finn was ever involved in this series.

I was also hoping for a Kurt solo since he and Finn are brothers...(i am still crying thinking back last season Finn said to Kurt good to see you too little brother... oh boy my Furt Feelings :"( )

But other than that ... the song selection that was chosen I am really happy with.

So yah... that is my thoughts on each of this songs from the Glee: The Quaterback EP
Its definitely a mixture of emotions but i think they did it justice on dedicating and celebrating the life of Cory/Finn as well as closure to another chapter.


What do you think of the songs that are selected for this episode??
What are you guys expecting from this episode??
Till next time...
...Don't Stop Believing... Keep on Dreeming...
~oxox rotan~